Science Exchange
This is a new feature, keep checking back as we update it with new information! email nhsafewateralliance@gmail.com if you want to hear something in particular.
New Hampshire has the highest rates of bladder, breast, esophageal and pediatric cancer in the nation.
Scientists think many cancers can be prevented with less exposure to environmental toxins.
Dartmouth Researchers Hail N.H. Bill to Cut Arsenic Allowed in Water
By Tim Camerato
Concord — A group of Dartmouth researchers studying the effects of toxic metals is applauding a plan to reduce the allowable threshold for arsenic levels in New Hampshire's drinking water.
The state Department of Environmental Services last week proposed halving its arsenic limit to five parts per billion. In a recent report, officials said the reduction is aimed at protecting the health of Granite Staters.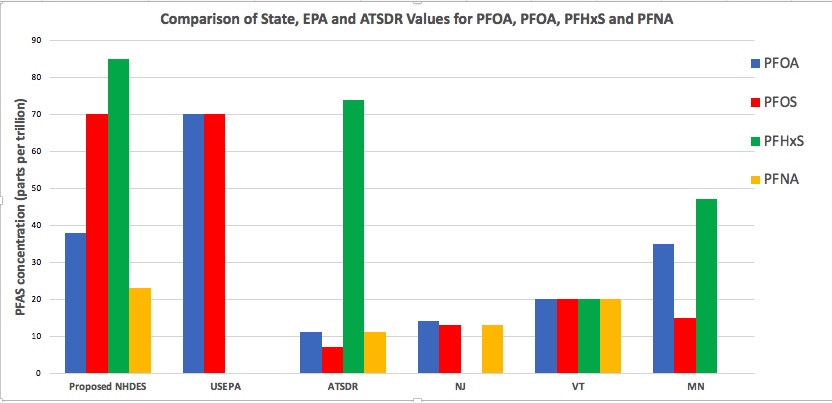 Use your voice to help protect our drinking water!
NHDES is currently making rules about what level of these chemicals are safe for you and your family to drink. Scientific and other activists don't think the NHDES proposal is protective enough. Click here to learn more and share your voice.
Officials in Kingston say they'll wait for more data before taking action on potential water contamination around a long-dormant Superfund site.
The Ottati and Goss Superfund site, off Route 125 near the Newton town line, is surrounded by campgrounds, homes, businesses and a popular swimming and fishing area, Country Pond.
EAST KINGSTON -- A septic services company was identified as the likely source of PFAS contamination in several private wells in town, according to the state Department of Environmental Services.
Biological Recycling Company of 79 North Road receives compost and sludge from septic haulers and spreads it over roughly 13 acres of fields on the north end of its property along Sanborn Road. DES believes PFAS chemicals in the sludge have leached into the groundwater of nearby homeowners' wells. DES spokesman Jim Martin said seven of 10 monitoring wells on the site tested above the state's ambient groundwater standard for PFAS concentrations.
EAST KINGSTON — Some homeowners are being told to drink bottled water after tests found groundwater contamination from a septage processing facility on North Road.
The warning was issued as representatives from the state Department of Environmental Services prepare to hold an informational meeting with residents Thursday night to address concerns about the recent test results that showed four private wells exceeded the state's groundwater quality standard for per- and poly-fluoroalkyl substances (PFAS).
NH Safe Water Alliance takes action on concerns about pfas waste handling
Maine DEP acted swiftly to address concerns about waste handling that contaminated a public water well and ruined a dairy farmer's livelihood.
Maine DEP puts moratorium on sludge Landfarming in ME
Maine DEP moved swiftly to stop landfarming with PFAS-contaminated sludge until it can be determined if this activity complies with Maine Solid Waste Regulations.
Stratham well contaminated by pfas likely from fire station
Aqueous-film-forming-foams (AFFF) have been used historically for fire fighting and training exercises at military bases, airports and private training areas not just in NH but around the country and internationally. Some have contaminated groundwater and drinking water in NH, like in Concord and Brentwood. NHDES has asked fire stations with private wells to sample the water. See link below for the most recent update from NHDES.
Other State Policy Initiatives